During the 50s and 60s, America fell in love with the space age. A cartoonishly futuristic style of architecture know as "googie" started springing up in response. Famous examples of googie architecture are the Space Needle in Seattle, the Capitol Records building in Hollywood and LAX's theme building (currently the Encounter Restaurant and Bar). This architectural style, also known as "populuxe" and "doo wop" was especially popular in coffee shops and signage. Which brings us to the next item on my list of Burbank favorites:
2. Googie signage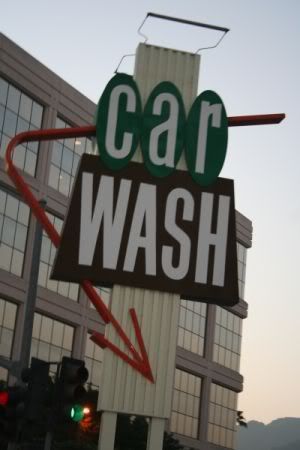 The googie style, typified by arrows, starbursts, boomerangs, atomic symbols and geometric shapes, explored the use of curves and angles in a new way. The undeniable appeal of its shiny steel, bright colors and modern typestyles is timeless, although googie's charm has seen a recent resurgance in popularity. Hopefully that wave of nostalgia will guarantee that th
ese signs will be valued enough to remain part of the urban landscape for many years to come.
PHOTO UP SOON
Bob's Big Boy 4211 Riverside Drive
Samuel's Florist 921 W. Olive Avenue
Safari Inn 1911 West Olive
Gilbert's Quality Cleaners 409 N Glenoaks
Monte Carlo Deli and Pinochio's 3103 W Magnolia
The Stardust Cafe 6720 San Fernando Road (The sign has been restored to the point of overkill but it still holds its cool iconic shape)
Want to get involved in saving classic signage?
http://modcom.org/