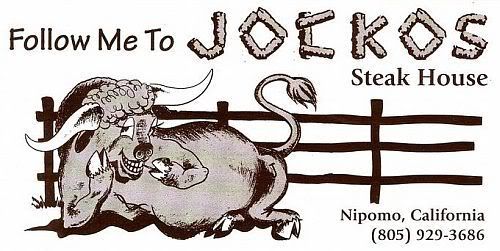 Jocko's, a Nipomo institution since the 50s, is nestled between a picturesque chapel and a building that looks so much like a little red schoolhouse that I felt like we were wandering around in a model train village. Even with a reservation, the wait for a table averages between an hour to two hours on weekends. The best way to handle this is by hanging out in their historic bar. The building is reputed to have been a saloon in the 1890s. A long, sparkling clean mirror runs the length of the bar, and hunting trophies line the walls. Order appetizers right away and pretend that you have just come to hang out in the bar with your friends. If you think too much about when your name will finally be called, you will drive yourself insane. My brother, Johnny, who is a local, warns that Albert makes extremely strong drinks. It is so common for people to get unexpectedly wasted while waiting for a table, they call it "getting Albertized". Jocko's will also throw you out if you ask for A-1 steak sauce. I asked Johnny if he had andy more tips, and he said, "Yeah. Watch out for Albert."
Albert was not working last Saturday night when we met up with the Roguefood crew for dinner, so we were safe. It didn't occur to me to order appetizers until we had been there for awhile, so everyone was getting a little restless. You have to stand at the ready to grab a table or barstool the minute it is vacated. It can get pretty cut-throat.
Not a moment too soon, our table was ready. We were all charmed by Jocko's mascot which adorned the placemats and stickers - a cow with a naughty little secret. What kind of secret could this cow be hiding? Just as we were settling in, our appetizers arrived. The jalapeno poppers and fried mushrooms were standard bar fare, but the linguisa, barbecued to juicy perfection, was a thing of beauty. There was a nice relish tray on the table. The salads were your basic steakhouse salads. But they were just stalling for time. We were ready for some of the meat we had been eying on that giant grill.
The specialty of the house is the Spencer steak, which is a ribeye. Almost everyone at our table ordered that. Ed ordered the lamb shanks, and Rene, who was still feeling peckish, ordered ravioli from the Italian section of the menu. When the steaks arrived, everyone ooh-ed and aah-ed over their plates. The meats are all cooked over red oak on a Santa Maria BBQ grill, which Jocko's only fires up at dinnertime. Ed's lamb was expertly cooked, and delicious, but definitely had that lamb-y gaminess. All of the steaks are perfectly juicy, and nicely charred with just a hint of smoke. Central California has a number of cattle ranches, so I assume Jocko's must have a good relationship with a one to get such quality meats. My filet mignon was insane - about 4 to 5 inches thick, and one of the most tender filets I have ever had. Landmark 77 in Ventura may have to give up the title of "greatest steak in the world". I'll admit my picture of the filet is a little CSI, but really, look how thick it is.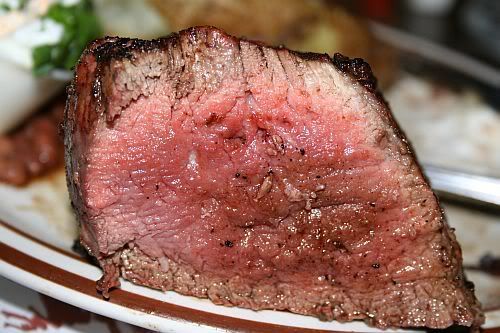 I had to try Rene's ravioli, and was pleasantly surprised. Amazed even. You would expect something like that to be an afterthought, something thrown on the menu for the vegetarians, kids, and picky eaters. But it was better than in the finest Italian restaurant. The light pillows of cheese were flavorful, not lazily stuffed with plain ricotta, and the sauce was meaty and intensely seasoned. I encouraged everyone at the table to try some. They all reacted the same way, "Are you crazy? I should mess up my tastebuds with ravioli when I am dining on the greatest steak in the entire world?" But I insisted, and they were all amazed and delighted by the fantastic ravioli.
I barely put a dent in my steak, and asked for a doggie bag. I excused myself to powder my nose, and when I returned everyone had a little dish of ice cream in front of them, which came with the meal. I was surprised by the variety...chocolate, pistachio, spumoni...I asked the table, "How many flavors do they have?" To which they replied in unison, "All of them." I picked up my spoon, and everyone asked, "Aren't you going to take a picture?" Come on, it was just a dish of ice cream. But I gave in. OK, somehow photographing the food had become de rigeur and I could not eat anything until it had been properly documented. I had made my bed of crazy, and now I had to lie in it. I snapped a pic, and ate a few half-hearted spoonfuls of the melting chocolate ice cream.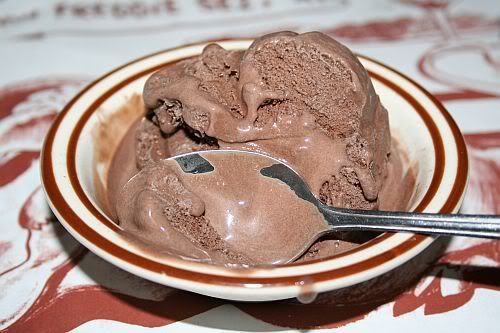 Jocko's 125 North Thompson Avenue, Nipomo CA 93444 (805) 929-3565 Reservations required!